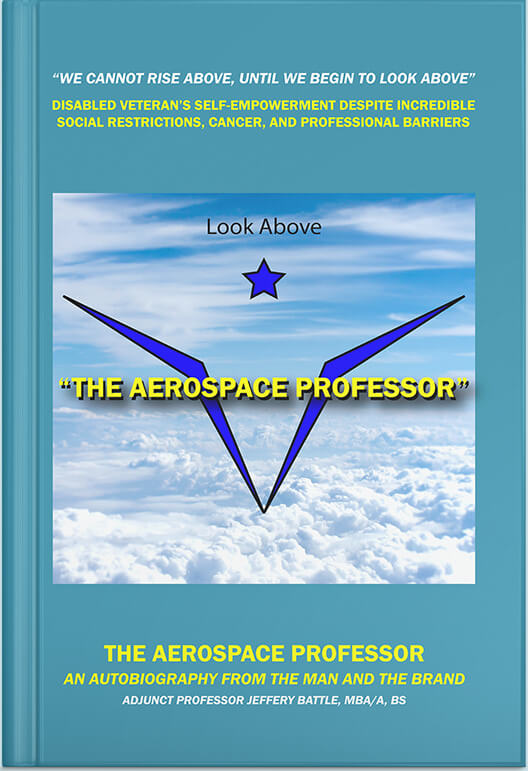 Look Above!
The Aerospace Professor
Who am I, Forrest Gump? The Aerospace Professor's autobiography is provocative and a compilation of emotional, thrilling, and compelling life experiences, from his childhood to adulthood. With a small amount of imagination, the autobiography resembles the life of a Tom Hank's movie character like Forrest Gump. Find out more. The Aerospace Professor's autobiography is about the life of Adjunct Professor Jeffery Battle, Master of Business Administration in Aviation (MBA/A), with two bachelor's degrees, in General Engineering and Professional Aeronautics, also, a service-disabled U.S. Air Force veteran and cancer survivor. Are you looking for a motivational read to boost your confidence? You don't need to look any further as "The Aerospace Professor" is finally out now, featuring the secrets to living a successful life despite setbacks and barriers!
"We Cannot Rise Above Until We Begin to Look Above." Jeffery Battle, also known as The Aerospace Professor! His autobiography and life experiences, are where an incredible number of adverse circumstances and perceived setbacks, uncovered unlikely success stories despite the gravity of the life events individually. The chapters within The Aerospace Professor's autobiography, presents emotional and compelling journeys of an Adjunct Professor, service-disabled veteran and cancer survivor, from early childhood through adulthood.
Despite the severity of any particular experience or life event, The Aerospace Professor's direct and indirect associations served as strength; read more about The Aerospace Professor and Taraji P. Henson, Tuskegee Airman General Benjamin O. Davis, Jr., Congresswoman Shirley Chisholm, John Mellencamp, Charlie Wilson, Golden Frinks, William Earl "Bootsy" Collins, Oprah Winfrey, The U.S. Air Force, The Haliwa-Saponi Tribe, and Representative John D. Hall. Remember to always "Look Above."
The mantra of The Aerospace Professor is "Look Above." The words "Look Above" for The Aerospace Professor mean that for each day, all individuals should strive to perform at a higher level than what they had initially intended. Don't just do your best, do your very best each day! Be excited about life and continue to be inspired by questioning and challenging yourself about what "Look Above" means for you today! Also, remember to give back and help others. Purchase our dynamic autobiography. We support our communities and our mission and are charity-focused. We have philanthropic values; please support a noble cause and assist us with our charity goals! To see how you can help, please visit our website at https://TheAerospaceProfessor.com.

The Aerospace Professor's autobiography has all the ingredients and would make for an exciting and dynamic film. An animated character series from The Aerospace Professor is in development as detailed in the autobiography.
Autobiography and audiobook available on Amazon, Barnes & Noble, Google Play, Audible, and many other exchanges